Abigail's Hotel: Victoria, B.C.'s Best Bed & Breakfast
When I plan out my trips there are three things that come to mind:
Does this place have a fascinating history, which can be seen in everything right down to its architecture?

Are there accommodation options that will both transport me somewhere else, but also make me feel at home?

Are there ample activities and locations to explore?
These three things I think also define me as a person. I love art and architecture. I am always looking for a unique experiences to create epic memories. I have a hard time sitting still and feel like I need to always be on the go.
Oh, and I also love (and I mean LOVE) a good continental breakfast. Some people may think that is weird, but there is nothing that makes me happier than staying somewhere that has an awesome breakfast in the mornings (which is included in your nightly room rate).
It was all of these elements, and more, that made me so happy to have stumbled upon Abigail's Hotel on my recent trip to Victoria.
LIVE OUT YOUR TUDOR DREAMS
(Henry VIII aka Jonathan Rhys Meyers not included)
Technically Abigail's is located in Downtown Victoria, but it definitely does not feel that way. About a 10 to 15-minute walk (3 blocks) from the ferry (don't tell me that is too far to walk), this gem of a Tudor façade B&B is tucked back into the neighborhoods just up the hill from the main street, the Inner Harbor and the famous Fairmont Empress.
When you walk up to the distinctive building, which in reality looks like a Tudor manor, you're immediately greeted with charm that transports you back to the 16th century, as well as freshly baked cookies when you check in.
The property itself dates back to the 1930's in a heritage Tudor revival-style mansion, which because of the heritage status of the property they don't have an elevator. But I mean, did people in the 16th century have elevators? I don't think so.
Before it was the charming hotel that it is today, it was previously an eight-suite luxury apartment building "The Bessborough" apartments (named after Vere Brabazon Ponsonby, ninth Earl of Bessborough).
FUN FACTS FOR HISTORY BUFFS:
• The building comes from the half-timbered houses of the 16th and 17th centuries with irregular shapes, steeply pitched roofs, multi-paned windows and rough-hewn materials.
• In 1985 the building was completely renovated and converted into a seventeen room bed and breakfast, with the exterior restored to its original Tudor architecture.
• In 1998 the "Coach House" was added alongside the main house with six luxury guest rooms, which feature luxurious king-size beds, wet-bars, wood burning fireplaces and jetted tubs.
AMENITIES FIT FOR A LORD (OR LADY)
Right down to the staff Abigail's exudes warmth and personalized service. Everyone could not have been nicer or more accommodating during my stay (they did everything possible to make my lactose intolerance not affect my experience) and truly coming back to the room felt like coming home. Plus, my room had a working fireplace so you can bet I strayed out of the norm from my typical travel style and did come back and spend a night laying in front of the fire watching movies (more on that later).
I think sometimes people forget how important your in-room amenities are when traveling – especially if you are going to shell out the money to stay somewhere nicer than an Airbnb or hostel.
This is something that Abigail's (and really most B&Bs) recognizes and does with the ultimate perfection.
MY ROOM FEATURED:
An en-suite bathrooms with a claw foot soaker tub and rain shower head
The softest of the soft bed, duvet and pillows
A wood burning fireplace which you could see from both the bathroom and bedroom
(controlled by a remote)
A bathrobe to just lounge in after the most relaxing soak
A flat screen television connected to both cable and a DVD player
Temperature control & AC
(which I could control in both the room and the bathroom)
Fresh cut flowers
A little welcome gift of fruit and chocolate
When you have all of these things in your room it would be a crime to not spend at least one night in during your trip. Normally this is not what I do. I'll go out on the town and experience as many bars and restaurants as possible to get a taste of local life – but Abigail's was beckoning.
Outside of the room, the hotel itself also had some pretty fabulous amenities and services.
Down on the main level of the building there is the dining room and a 24-hour Library Lounge. What is a library lounge you may ask? It's literally the perfect place to sit down and relax with a good book, glass of wine, cup of tea (a 24-hour tea station is also located in the room), the newspaper or board game. This is also where their DVD library is located, which you can browse through and "check out" as many movies as you like to bring back up to your room.
TIP TO NOTE:
You can also borrow the books and the board games and bring them up to your room as well!
Remember when I mentioned that I LOVE continental breakfasts? Well Abigail's takes this concept and further elevates it with their daily gourmet, three-course, breakfast (which is included in all of the room rates)! The on-site chef made some of the most delicious meals, which can all adjusted to be gluten and/or dairy free based on your dietary needs and preferences.
CHECK OUT WHAT I HAD FOR BREAKFAST AND THE CUTE WEATHER FORECAST INCLUDED ON THE BACK OF EACH MORNING'S MENU BELOW!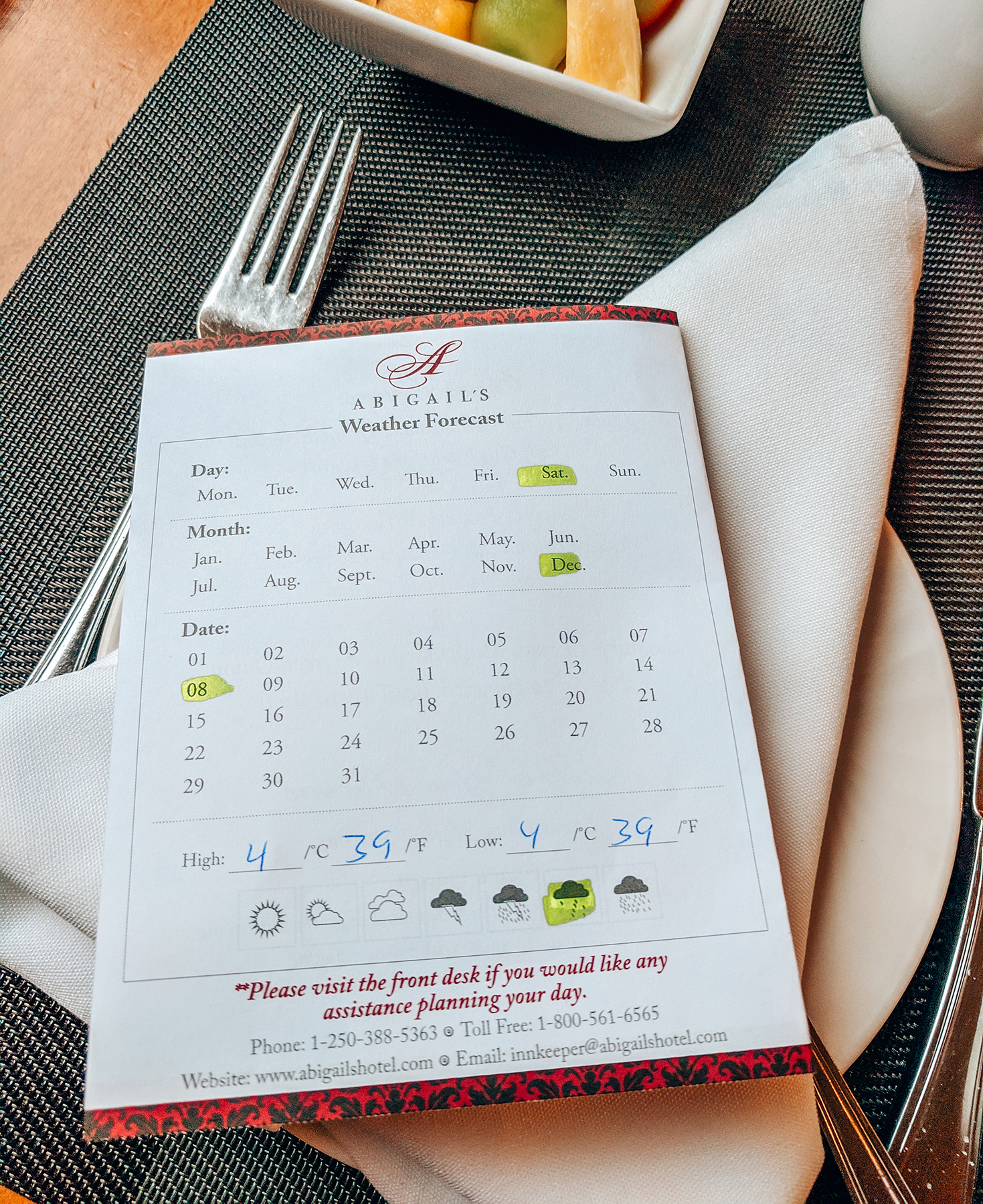 While I'm on the topic of delicious food, I can't forget to mention that every evening they serve complimentary light appetizers from 4:30pm - 6:00pm in their lobby, and right next to the lobby area there is also a 24-hour coffee station (and since it was the winter and the holidays they also were offering hot apple cider).
FUN FACT:
On the 'Dear Abigail' page of their website you can read more about the on-site chefs (during my stay I had the wonderfully accommodating Chef Gerald Mayor), and you can even find a handful of recipes!
the main reasons you should stay at Abigail's
It's adults only (the minimum age allowed is 13)
It's intimate (with only 23-rooms)
Dynamic three-course, daily rotating, breakfasts are included in your room rate
When you only have the ability to travel for quick weekend getaways, Abigail's is the ideal situation. Its location allows for easy exploration of all Victoria has to offer, and the fact that the city has the mildest climate in Canada this also makes it perfect for a winter adventure weekend!
THE CHARM OF ABIGAIL'S (& VICTORIA) DURING THE OFF-SEASON
Now I know there are a lot of you who will do anything to avoid winter, which also means traveling to colder locations.
But as you know I am always going to be a person that advocates for off-season travel. Why? Because it's cheaper, the holidays are always super cute and make you feel warm and fuzzy and festive inside, and because (the cold – pun intended – reality) the entire globe is not located along the equator near the beach.
That being said, Victoria is a great place to visit during the winter. For one, if you are located in the Pacific Northwest it's extremely easy to get to from Portland or Seattle. And two, like I mentioned earlier, it has a pretty mild climate in comparison to its other PNW city siblings.
Victoria is also known as the 'City of Gardens', which makes sense, as the natural environment is perfect for any outdoor enthusiast, and fun fact, the flowers will bloom months before any other neighboring city or province. I also can't forget to mention Butchart Gardens – the ultimate experience mirroring the city's nickname. Even though Butchart is a big tourist magnet the locals thoroughly enjoy it as well, and during this time of year the garden comes alive with over 300,000 lights and over 4,000 poinsettias, set to a yearly theme. This year it was the 12 Days of Christmas (based off of the song).
If being outside every day during the winter isn't 100% your thing, no worries, there's still plenty to do during a winter visit! The rich history of the city, and the old-world British colonial feel, make you feel as though you've flown hours and hours over to Europe. If you're a history/city buff like me then be prepared to experience a state of euphoria as you stroll throughout the city learning its history.
Top 5 Things to See During a Weekend Winter Visit
Experience the infamous Afternoon Tea at The Empress

Spend the day at one of the best museums on the West Coast: the Royal BC Museum and Archives

Go on a whale watching tour to see some of the Pacific Northwest's most famous residents: the Orcas

Visit Canada's oldest Chinatown, and the narrowest street in North America: Fan Tan Alley

Get a different view and perspective of the city (and see a little lighthouse) on the Breakwater off Dallas Road
Bonus Location: If you brought a car, or have the budget for an expensive taxi ride (Uber and Lyft do not exist in this city), then make sure you take a day trip to Hatley Castle. You will not be disappointed!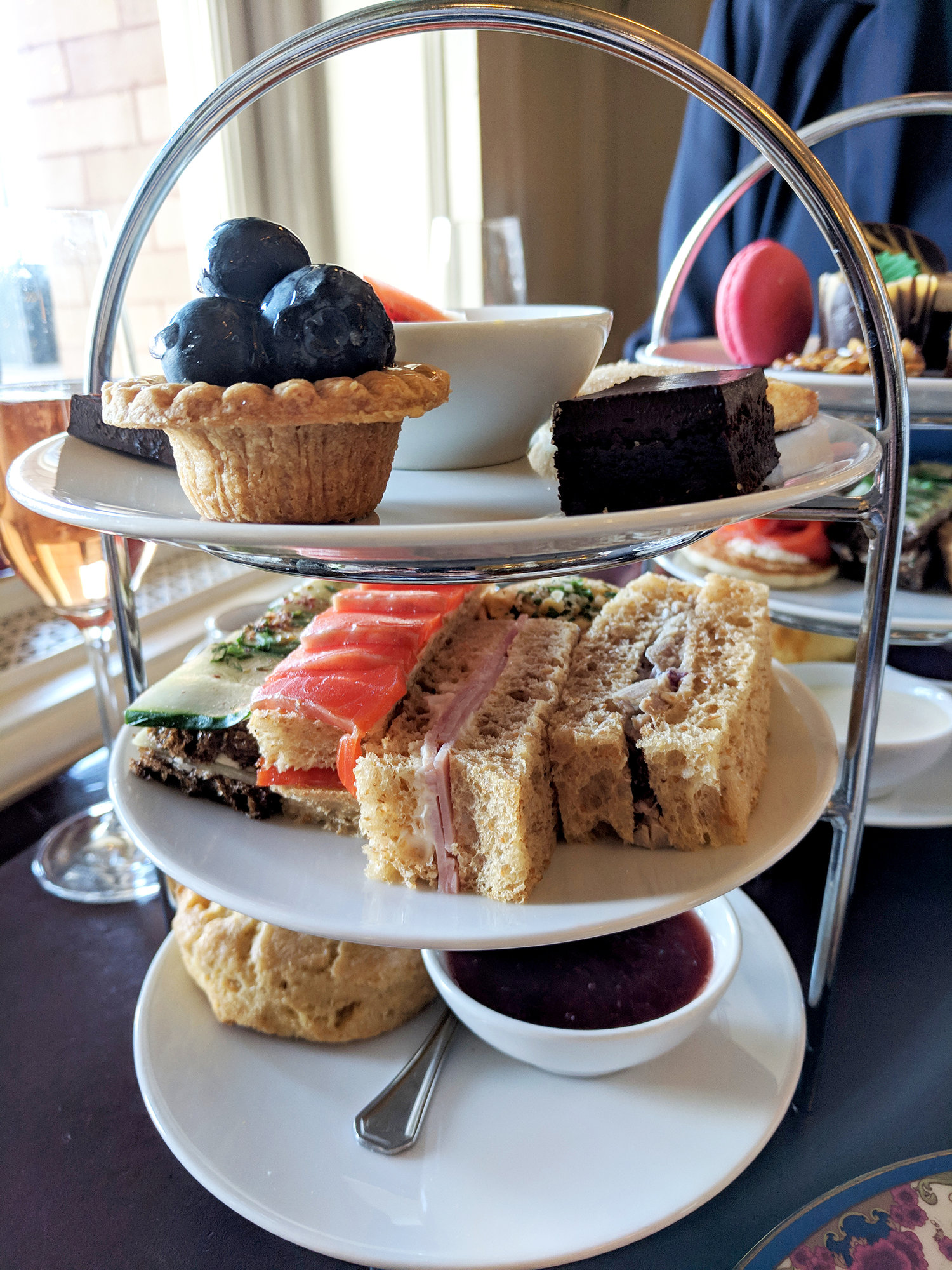 The website could not have described Abigail's Hotel, and really Victoria in the winter, more perfectly (which I may have slightly altered):
"…Blending the romance and charm of the past with the comfort and convenience of modernity."
BIG thank you to Allison from Abigail's for hosting me during my visit to Victoria! The experience could not have been more perfect!
DON'T FORGET TO PIN THE IMAGES BELOW!